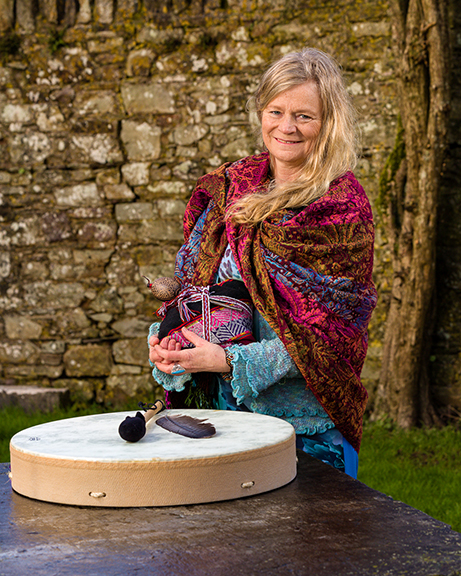 Photographer: Pat White
I grew up in Germany as a post war child and the loss of my twin four days after birth and having a mum who was not able to express love, I ended up with very little self-worth .Having worked as a bookbinder by trade all my life, 7 years of that in London, I moved over to Ireland in 1996 ,where I started up a hand bookbindery which became very successful.
But somehow deep inside I had a lifelong sense of sadness, relationship problems, underlying sense of emptiness and loneliness. Looking back over my life I was trying to be utterly connected again as I had been in the womb with Angelika my twin sister, floating around in a primal bliss of oneness. The problem was that I had spent so many years looking on the outside for something that could only be found on the inside. Through the path of shamanic energy healing and new knowledge my focus has finally shifted and I am on a new journey.
In 2003 I met my first shamanic teacher Paul O'Haloran . He came to clear our house. It turned out that the deceased Lady who lived in the cottage before hand was earth bound and had not fully passed over. I never forget the love and peaceful energy which filled the house when Paul healed her and helped her to go.I was fascinated and wanted to find out more.
Shortly after that I took part in my first shamanic workshop with Paul. That's how my journey of self-discovery and healing began. I had a huge desire to become whole and to heal my soul wounds. The path of the Healer is the path of the wounded healer to transform pain, anger and depression into strength, compassion and inner light. My journey took me through three Medicine Wheels and recently to Peru where I worked with shamans in the Sacred Valley and the Jungle.

Barbara is a Mesa Carrier
A Mesa or Misha is a bundle of power stones or power objects that connect an Andean Paqo, a mystic healer or shaman and used in ceremony to heal and is always charged with living light energy.
Barbara has worked and studied for many years with renowned shamanic teachers in Ireland, England and Peru; Martin Duffy,John Cantwell, David Leesley, Elisa Vargas (Pucallpa, Peru) and Juan and Ivan Nunez del Prado, from Cuzco. She has done three Medicine Wheels and is initiated into the Munay-Ki.
Most recently she has been initiated into the Hatun Karpay rights by Juan and Ivan Nunez del Prado the foremost expert in the world of the Andean Mystical Tradition and the Q'ero Indians in Peru. Indigenous peoples have a wisdom that westerners are longing for. The Hatun Karpay makes this wisdom accessible by waking up your personal potential leading you into a deeper and richer experience of your life. As an anthropologist, mystic and past university professor he is one of the most important spiritual figures in South America.
The Hatun Karpay initiation experience has been practiced for hundreds of years in the Andes by the Q'ero Indians, the direct descendants of the Inka. They are considered to be the the keepers of the Ancient Wisdom of the Inka.
Certified courses and workshops attended by Barbara include:
2003 Earth and Space Clearing with Paul O'Halloran
2004 Earth Healing and Space clearing with David Furlong
2005 – 2006 Bio Energy Therapy Course with the Plexus European Institute of Bio Energy
2007 the Shamanic Practitioner Course at the Irish centre for Shamanic Studies Dunderry Park, Director and teacher Martin Duffy
2007 Shamanic Breath Work Irish centre of shamanic Studies (www.shamanismireland.com)
2009 -2010 Medicine Spiral with Slian Chroi Shamanism (www.Slianchroi.ie) Teachers John Cantwell and Karen Ward
20010 – 2011 Healer spiral with Slian Chroi Shamanism
(www.Slianchroi.ie) Teachers John Cantwell and Karen Ward
2010 The Goddess rites with Query Indian Dona Maria Apaza
2010 Gathering of the Grandmothers with Sharon Mc Kerlane (www.grandmothers speak.com)
2011 Munay-ki (rites of consciousness) with Raj Padam , Cork
2012/13 Advanced Shamanic Practitioners Course with Paul O'Haloran (www.pathwayteaching.com)
2014 Trip to Peru with facilitator Mary Sky working with Inka Q'ero Don Basilio in the Sacred Valley and shaman Elisa Vargas in the jungle.
The Great Council of Grandmothers say – "giving and receiving through the Net of Light is a tremendous experience. You will feel the sparkling effervescence of the Net of Light inside your veins and experience light pouring from your hearts . The light that is sent from your hearts will return to you through your eyes ears and breath."